This is a quick tutorial on how to sell your 3D models on RebusMarket. You can watch a video version below.
If you have not yet created a seller account do this first. Visit this link to create a new RebusMarket seller account.
https://www.rebusmarket.com/seller/register
Once you have created the account and confirmed your E-Mail address, log in to the RebusMarket seller backend:
https://www.rebusmarket.com/seller/login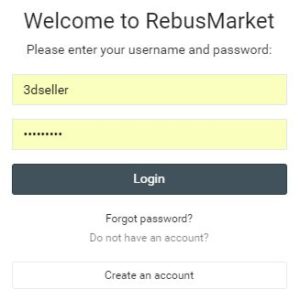 Click the new product button
Fill in all the required fields.
Please be as accurate as possible. This information will be shown on the product page and in the search results. It is also relevant for how good your model will apear in google.
Select a category for your model. If your 3d model fits into several categories, you can add additional categories.
In the description, provide as many details about your model as possible. Make sure your customer can know exactly what he is buying. A good product description can also help your models to appear higher up in search engine results.
The product detail options are important for the on site search function and for filtering search results. They can help customers find exactly the model they are searching for as fast as possible.
After providing the product information it is time to upload images and files.
Click the save button to continue to the next step.

Now you can upload images and model files simply via drag and drop from your file browser into the web browser. Just drop them on the "images" or the "files" field and the upload will start. You can drag and drop multiple files at the same time. You can select the format of the files before the upload, or set it after the upload is complete.

To change the format after the upload is complete click the select fields in the file list. If a file contains more than one format or renderer you can use the "Add Format" button to add another format for this file.

Once all files and images are uploaded you can publish the model by clicking the "publish" button.